BobsDen Bengal Kittens For Sale
The only way to insure your pick baby and get the kitten you want is by
placing a $200 (non-refundable) deposit through PayPal to Denise@BobsDenBengals.com
Pet prices run about $1500 for brown rosetted and $1800 snow rosetted (less for marbles)
(pricing based on pelt and quality), call for breeder information.
Want a little insider information? Read some of BobsDenBengal Owner's testimonials
Rayen x Flash female rosetted kitten DOB 12/16/22 $1500 Available
See this little female, her brother (7 & 10 weeks old) and Char's snow lynx VIDEO
Cally x Moki kittens born 2/15/23 - 1 girl (pink) & 3 boys (green, blue, orange) all $1500
Kachina is babysitting these 4 week old kittens... check out their Debut Video + Zuri's litter of seven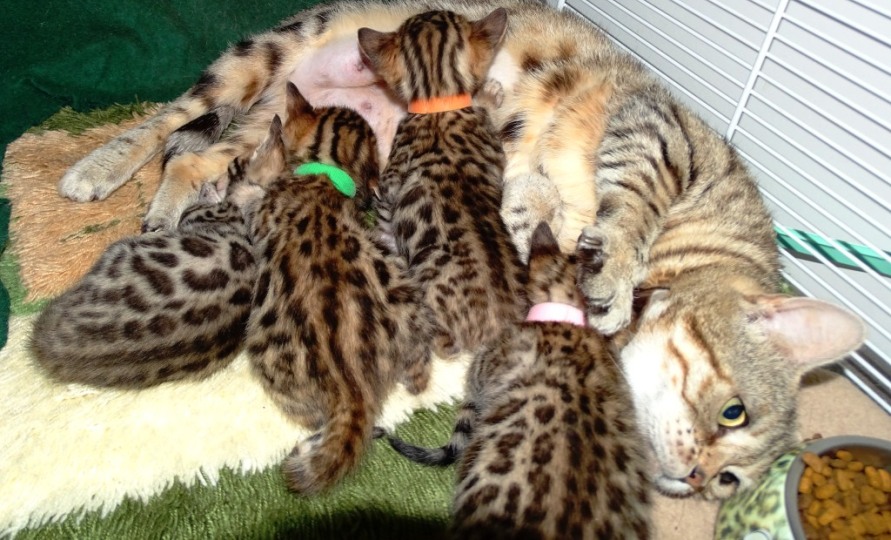 Zuri x Moki kittens born 2/18/23 - Rosetted all $1500 - Marbles all $900
3 girls (tan/purple rosetted, yellow marble) ~ 4 boys (black/blue rosetted, red/lt blue marble)
red collar male marble reserved to Deb B.
pictured here with Zuri & Cally at 3 weeks old, check out the Debut Video of Cally + Zuri's litter
Char x Ivan (of Queencity Bengals) male born 3/16/23, reserved by Vincent E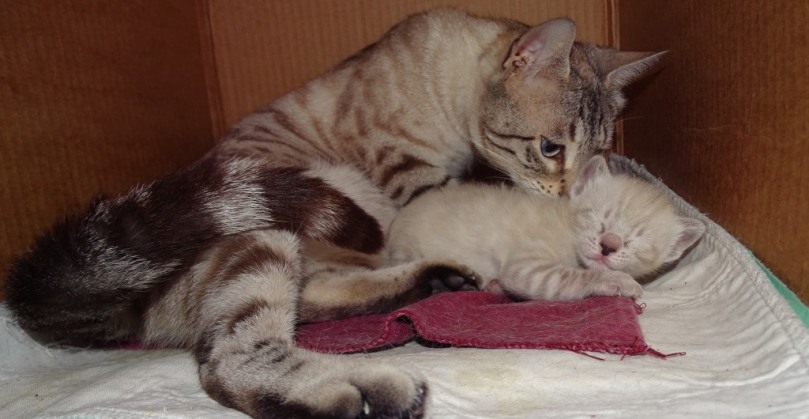 Videos are also on our Facebook Page and on Instagram!
See some very happy 2022 forever homed Bengals, plus more... 2020-2021, 2017-2019, 2013-2016
You can also contact my good friend Georgia of Queen City Bengals for more available Bengals!
Call (828) 287-4513 (9 a.m. to 9 p.m. EST) to chat or to inquire about Breeder Information
email Denise & Bob, located in Rutherfordton, North Carolina (NC) - No secrets, click to view Contract