Bengal Kittens For Sale
The only way to insure your pick baby and get the kitten you want is by
placing a $200 (non-refundable) deposit through PayPal to Denise@BobsDenBengals.com or paypal.me/BobsDenBengals.
Pet prices range $900 - $1500 (based on pelt and quality), call for breeder information.
ONLY TWO FEMALE KITTENS AVAILABLE FOR 2020
UPDATED Video of Rayen's 7 week & Zoie's 6 week kittens!
Purple Collar Snow Lynx female (Zoie) is the only kitten available from the above video.
Zuri's litter (snap-shots below), Pink Collar female is the only kitten available
UPDATED Video: 4 week old kittens
~~~~~~~~~
Rayen x Flash 2 boys & 1 girl born 4/3/20 ready July 4th
3 week video ~ UPDATE: 5 weeks old!
| | |
| --- | --- |
| Blue Boy > $1500 Reserved by the Matczaks | Green Boy > $1500 Reserved by Maggie |
Yellow Girl > $1500 Reserved by Catherine
Zoie x Skah - 2 girls, 1 boy - Snow Lynx born April 10th, all $1500 - ready July 11th
1st pic 2 girls left, boy right (1 day old) - 2nd pic 2 weeks old, boy (orange), 2 girls right (purple/pink)
Only Purple collar girl available middle in both nest pics, see them at 6 weeks
Sneak peek 2 week video UPDATE: 4 weeks old! ~ 6 week video top of page w/Rayen's 7 week kittens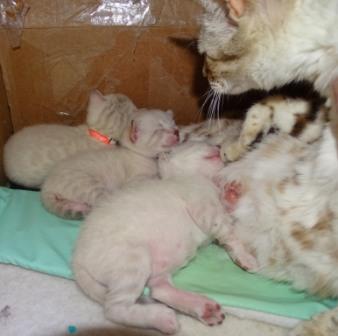 Purple Girl > $1500 Available
| | |
| --- | --- |
| Pink Girl > $1500 Reserved by the Freemans | Orange Boy > $1500 Reserved by the Justus' |
Zuri x Mundoo - 4 boys and 1 girl - born April 27th, $1300-$1500 - ready July 25th
Only the female kitten is available
babies photos, 3 weeks old ~ 3 week old kitten video. UPDATED Video: kittens now 4 weeks old
PINK girl $1500 AVAILABLE
BLUE boy $1400 Reserved by Rasheed
GREEN boy $1400 Reserved by Rasheed
ORANGE boy $1500 Reserved by the Freemans
RED boy $1500 Reserved by Daniel
See some very happy forever homed kittens - more to come
Call (828) 287-4513 9 a.m. to 9 p.m. EST to chat or to inquire about Breeder Information
email Denise & Bob, located in Rutherfordton, North Carolina (NC) - No secrets, click to view Contract