Bengal Kittens For Sale
The only way to insure your pick baby and get the kitten you want is by
placing a $200 (non-refundable) deposit through PayPal to Denise@BobsDenBengals.com
Pet prices run about $1500 for brown rosetted and $1800 snow rosetted (less for "rarely have" marbles)
(pricing based on pelt and quality), call for breeder information.
Want a little insider information? Read some of BobsDenBengal Owner's testimonials
TWO TALLULA FEMALE MARBLE & ROSETTED KITTENS AVAILABLE and READY NOW!
THREE ZurixFlash, 1 Rosetted & 1 Marble Boy ~ 1 Marble girl (Ready weekend of Oct 8th) see kittens below
Looking for a snow kitten? Contact my good friend Georgia of Queen City Bengals
Tallula x Moki female kittens DOB 4/20/22, Black marble $1100 & Brown rosetted $1500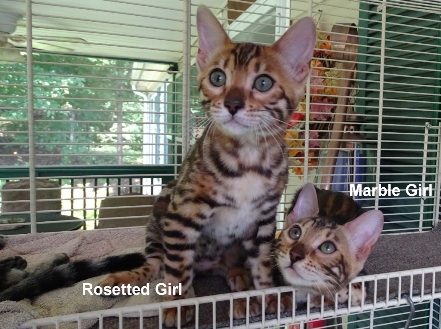 Zuri x Flash kittens DOB 7/11/22 (AVAILABLE) marble female $1100 ~ rosetted male $1500 ~ marble male $1100
Cally x Flash male kitten DOB 7/13/22 Reserved by Kaira & Kiki ~ rosetted male
Premier Video! of all four playing in the floor @ 4 weeks old!
All kittens ready weekend of Oct 8th, 2022
See some very happy forever homed kittens - more to come
Call (828) 287-4513 (9 a.m. to 9 p.m. EST) to chat or to inquire about Breeder Information
email Denise & Bob, located in Rutherfordton, North Carolina (NC) - No secrets, click to view Contract