BobsDen Bengal Owner's Testimonials
Bengal cats are our passion and we want them to be yours too!
Email Denise & Bob, if you'd like to participate on our testimonial page.
Real Testimonials from BobsDen Bengal Cat and Kitten Owners, we asked:
1. What made BobsDenBengals stand out from the other catteries? What sold you on buying a cat from us?
2. What made you happiest about getting your kitten?
3. What exceeded your expectations about BobsDenBengals or what surprised you the most?
4. What was one unexpected benefit you experienced since getting your cat and visiting BobsDenBengals?
5. What's the main reason you would recommend BobsDenBengals?
6. Was there anything we could have done differently?
7. Is there anything else that you would like to comment on or say about BobsDenBengals or your cat?
8. On a scale of one to ten, how likely are you to recommend BobsDen Bengals to others?
Here's what they have to say...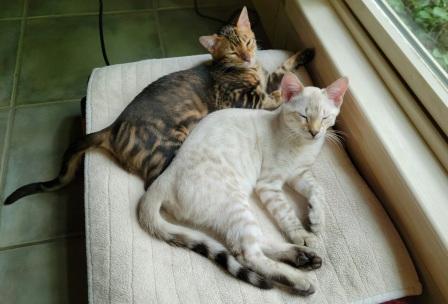 Always get two kittens instead of one. They have so much fun and I think they are actually easier when they have each other to entertain. We are so happy with the two of them.
Moonie (snow lynx boy) adjusted in less than a day to the house, dog and two other cats. He is super sweet and laid back - my lap cat. You were right when you said that Maya (marble girl) was going to be the one getting him involved in mischief. She is the instigator for sure. As you can see, Moonie is every bit as big as Maya even though he is 5 weeks younger. ~ Peggy & Randy
Bob and Denise really care about their Bengal cats, all their cats enjoy spacious rooms for activities and that's why BengBeng is so friendly and relaxed! Never scratching or biting people. He also got along with our elder cat very well within only three days!
Denise is so patient and nice, she told us the how to take care of our new kitten and we do feel that they love their cats so much! They make sure that the kittens grow and are socialize well for their new families. Our cat, BengBeng is such a cutie pie. We would definitely rate a 10! Kate & Kaida
My husband and I had been searching for a few different breeds of cats for a while before finally deciding on a Bengal. Unfortunately, we encountered a lot of sketchiness from some breeders when searching. It was mainly a lot of transparency issues such as their rates, deposits, wanting full payment upfront before pickup, websites without much information, etc. We chose BobsDenBengals because they were transparent on all these things and had pictures of their cattery on their website. They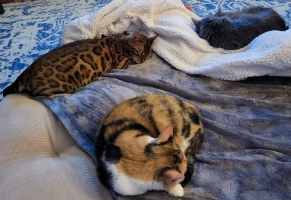 also were able to give estimates on when the next litter was expected, they are very easy to get a hold of and we were able to talk to them on the phone, which was hard to find in our search. They were also relatively close to our location, so we could easily drive to pick up our Bengal. Another big reason we chose them, however, is because they were registered on the TICA website.
One of the best things about Luna is how beautiful and distinct her markings are, her lovely temperament, behavior and intelligence. Luna has never once been aggressive and she loves toys that are puzzle based. She is such a sweet and cuddly cat, playful and talkative and we absolutely adore her and would definitely consider getting another Bengal later on from them. We were shocked at how nice the the cattery was setup and Denise and Bob were very nice to work with. They definitely train and handle the kittens/cats while they are with them. It was wonderful not having to train Luna on how to get her nails trimmed by us, she's totally fine with it and doesn't object at all. My other cats are rescues and I definitely had to put in work on training them and it was so wonderful not having to do as much since Luna was already trained well. We would recommend BobsDenBengals because they are very transparent and upfront on their policies, how their cattery works, how they raise thier cats and that they have very beautiful cats with very distinct markings. We give a 9/10. Daniella & Jonathan D.
I searched for several months to find a "good" breeder. I came across BobsDenBengals through a random Google search, read some testimonials and was impressed. They also raise snow lynx Bengals, which I found somewhat rare with other breeders. I have always wanted a snow leopard Bengal, and they had exactly what I was looking for. Bob and Denise treat their cats and kittens like family, producing very well-behaved kittens.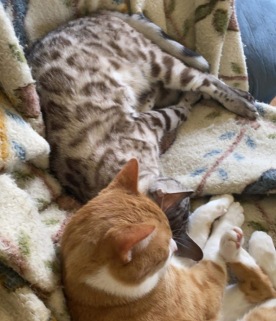 My snow girl (Angela) is about 2.5 years old now and behaves better than any other cat I have owned. She is full of Bengal's trademark spunk, energy and playfulness, but will also curl up on my lap for hours. I expected Angela to be wired most of the day and be more difficult to take care of than a "regular" cat. This is not the case, as time goes on, she's becoming more mellow, minus the famous Bengal zoomies she gets. She is a great cat and I am thankful I get 15 plus years with her. She gets along very well with and has bonded to my other male cat. Seeing how beautiful my snow leopard kitty is was hard to adjust to, I often look at Angela and think "holy cow, this is the most beautiful house cat I have ever seen"! When people visit my home, often the first thing they notice is this 10lb. snow leopard spunk ball running up to them. Angela is very friendly. The first thing visitors say, "Jacob, what are you doing with a wild mini leopard running around your house?!?!?!"" or "I am taking her home with me right now, she's the cutest thing I've ever seen". She is a great talking point and consistently impresses folks that meet her.
BobsDenBengals surprised me by how personal and family oriented their cattery is. I wasn't expecting a kitty mill, but I was certainly expecting a more business like set up. You raise your kittens in bedrooms in your home, your adult (breeder) cats have their own cat home with indoor/outdoor access, plenty of toys, food/water and lots of playtime. This reassured me that the kitten I purchased (and her parents) were loved and cared for and you weren't looking at your cats as cash cows. My only suggestion, if the kitten has a long drive home, maybe let the owner know what to expect. I learned very quickly that Angela did NOT like being in a car carrier (or in confined spaces in general). The ride home was very loud and stressful for her. I felt like I should've done something different or been prepared differently to make her trip home less stressful. I am not sure what you all could do about this (if anything). Maybe other owner's have some feedback on this… Great breeders, great cats and great facilities, very reasonably priced as compared to other breeders, no one can go wrong purchasing a Bengal from you all! I give BobsDenBengals a 10. Jacob A.
BobsDenBengals stands above the rest as a cattery that is owned and operated by real people, people that take their business seriously but also don't come across as conceited or stuck up... A lot of the catteries that we investigated were either fakes trying to steal your money or were real but were so pompous that it was hard to do business with them. We love our Bengals from BobsDenBengals and we treat them like the special members of our family that they are, we will never have any royal titles as part of their names, we call them Blue (left) & Jerry (right).
When we met Denise and Bob, the kittens and their parents, seeing the homes (you can call it a kennel/cattery) made us feel like they each have their own room in a home and the way Bob and Denise treat them all as family, was overall just a wonderful process. The best thing about getting the kittens, other than the instant connection my wife and I felt with them, is the fact we felt well prepared for bringing them home and having everything ready so they were comfortable and could get familiar with their new surroundings as quickly as possible. The amount of work BobsDenBengals puts into ensuring we were prepared for our new family members was really something else... BobsDenBengals (Denise) assessed our current environment and suggested we get a second Bengal when we initially went to look at getting one because our existing cat is 16 and the amount of energy young Bengals have would have made it difficult for our older cat to adjust. They were 100% right. I am so glad we got a 2nd Bengal from their other litter so Georgy could have some peace while the little ones kept each other occupied. We would recommend BobsDenBengals because everything from meeting the kittens to seeing their homes to the way Bob and Denise treated us, to how they helped us prepare... the all-around experience and process of getting Bengals from them was professional, caring and just exceeded any expectations. We give BobsDenBengals a 10. Patrick & Andrea
We're a small family cattery in North Carolina raising the best purebred Bengal cats!
Come on in and visit awhile. (click the tabs above)